AIR FREIGHT 
"THE FASTEST WAY TO MOVE AIR FREIGHT"
CALL: 1300 767 136
"CargoMaster offers a broad range of specialist air freight services. With over 30 years experience handling domestic air freight you can be sure your air cargo is in safe hands!".
CargoMaster air freight services Australia , include moving heavy air freight to almost anywhere in Australia (with a runway!).
Domestic air cargo Australia offers same day and overnight air freight, door to door or airport to airport. CargoMaster is able to arrange collection of your air freight anytime including weekends too! Pick up vehicles include tail lift trucks that can handle pallet loads upto 1 ton.
CargoMaster handles larger type shipments 100kg and over, if your cargo is particularly large, heavy or bulky CargoMaster will organise for your freight to be uplifted on nightly freighter aircraft. CargoMaster offers priority air freight services 24/7 Australia -Wide.
The majority of Australia's domestic air freight is carried by Australian air freight companies , in the belly holds of commercial passenger jets, only a small percentage of domestic air freight is moved via freighters.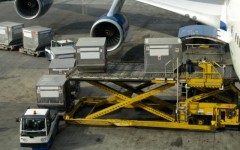 TYPES OF AIR FREIGHT SERVICES AVAILABLE
AIR FREIGHT CHARTER:
The premium service offered by CargoMaster . Air freight charter services are available at short notice from and to almost anywhere in Australia, with a runway!. Air freight charter is ideal for valuable cargo (better security), time sensitive cargo, heavy and bulky cargo, air cargo that requires special handling or delivery deadlines are critical, the air cargo is fragile and requires more than the usual careful handling. A wide variety of air craft available around Australia. CargoMaster air freight charter services have been used to help with supplies to natural disaster sites (like floods ) sometimes a charter may only be ndeeded for part of the transportation. Air freight charter services are used by Australian Government Departments, and State Governments, business and private companies. CargoMaster moves all types of freight including 100's of boxes of documentation to gold bullion on pallets!
SAME DAY AIR FREIGHT:
Same day air freight is carried mainly by passenger aircraft which means large pieces cannot be moved as same day air freight, mostly same day air freight will be uplifted in narrow body aircraft which have strict size and weight limitations only smaller pieces can be uplifted for same day service.
Often Same day air freight will be moved by dedicated road vehicles to as many regional and remote centres do not have airports or runways! As a basic rule pieces must be 50kg or less to ride as same day air freight. Call CargoMaster if you would like to know more about Same Day Air Freight Services.
OVERNIGHT AIR FREIGHT
Overnight air freight is available from and to almost anywhere in Australia. Because overnight air freight can be uplifted on the freighter network air cargo consignments can be bigger and heavier, overnight air freight can be uplifted on "wide bodies" toofor example Perth to Melbourne and Sydney and return routes offer a wide body service. Overnight air freight should normally be collected or lodged by 1700hrs in capital cities and deliveries are normally effected by 1100 hrs the following morning. The majority of overnight air freight in Australia will transit via Australia's domestic air freight "HUB" Melbourne airport or Tullamarine. Perth to Brisbane for example will transit in Melbourne for a direct flight to Brisbane, air cargo for tasmania from Perth will ride on a frieghter service from Melbourne to Launceston. Air freight for Darwin from Perth will travel via Melbourne and Brisbane to Darwin for a mid day arrival in Darwin.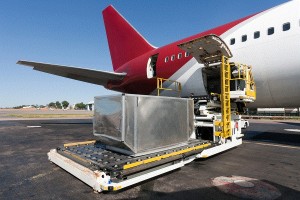 DOMESTIC AIR FREIGHT AIRCRAFT IN AUSTRALIA
AIRBUS A330-200:
HOW TO CALCULATE VOLUMETIC WEIGHT
Australian domestic air freight is charged at the actual weight of the goods or aletrnatively on the size whichever is greater, so for example a ton of feathers would take up more room in the cargo hold compared to a ton of bricks, it is likely the feathers would be chargeable at thier volumetric weight. To calculated the volumetric weight of your shipment all you need to do:
LENGTH X WIDTH X HEIGHT X 200
the above calculation will give you the volumetric weight of the intended cargo, so the goods will be chargeable at whatever is greatest, volumetric or actual weight